Mathcad eLearning Library
Product Announcement from PTC - University Program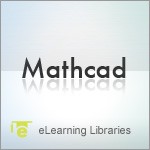 Mathcad eLearning Library offers you superlative courses to learn basic or advanced functions easily and quickly. These comprehensive and practical courses are elaborated by PTC's software engineers. You will get the most professional and pertinent trainings.
More than 40 hours of modular instruction on essential Mathcad topics. Learning segments covers all aspects of Mathcad's extensive functionality. Enable users working in Mathcad to get immediate step-by-step training on the specific capability or element they are trying to use.
The Mathcad eLearning Library allows you to train at your own pace, in any sequence you want, and includes text-based descriptions, interactive examples, and hands-on exercises, to reinforce the retention of the material covered.
Maximize your performance on Mathcad essentials and critical functions including:
Entering & Editing Expressions
Formatting & Documenting
Functions
Units
Plotting (2-D and 3-D)
Calculus & Symbolics
Solving & Optimization·
Differential Equations
Programming
Data Exchange & Analysis
For users who already know Pro/ENGINEER and Mathcad and wish to understand how to use both products in conjunction with one another, you'll find the courses you need in this eLearning library. Specifically, you'll learn how to…
Prepare models for use with a Mathcad worksheet.
Flag variables in Mathcad to receive/return information from/to a Pro/ENGINEER model.
Perform Mathcad analyses in Pro/ENGINEER.
Create Mathcad analysis features in Pro/ENGINEER.
Configure, licensing, and software requirements.
More information: Click here
---