Carbon Packings For High Temperatures!
Product Announcement from Palmetto, Inc.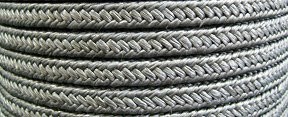 1570, 1575 and 1578 are all excellent carbon packings for high speed/temperature applications. They are stronger, yet lower cost alternatives to Palmetto 1580, 1585 and 1588.
1570 has a wide pH range for chemical and caustic applications and durable for abrasive media. Also available as 1575 with a graphite coating or 1578 with a PTFE coating.
Construction: Interwoven® braided packing
Temperature Range: 650°F (345°C)
pH Range: 0-14
Pressure: 2500 PSI in valves, 500 PSI in pumps
Shaft Speed: 4000 FPM
For high temperature applications that requires a wide pH range and a durable packing with good heat dissipation.

Ideal for difficult slurry media found in pulp & paper, mining, etc.
Palmetto remains at the forefront of industrial improvements, developing new packing materials for our customers. We are committed to bringing you the most effective packings on the market and will continue our investment in new solutions to meet your most critical sealing requirements.

---