For Food, Beverage, or Pharmacy Packing
Product Announcement from Palmetto, Inc.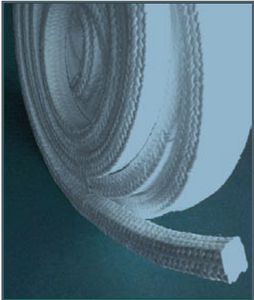 1367 TFE high-temperature FDA compliant packing. Best choice for high speed or high temperature applications requiring a white packing.
1367C is produced from expanded PTFE ribbon that is loaded with heat conductive white FDA compliant particles. The widest chemical compatibility, heat dissipation, non-contaminating and low friction characteristics yields an unsurpassed packing targeted for use in the food/pharmaceutical and fine paper industries.
Product Data:
· Material: ePTFE filament with FDA compliant lubricant and heat conductive 'white graphite'
· Construction: Interwoven™ braid
· Temperature: -400°F to 500°F (-240°C to 260°C)
· pH Range: 0 - 14 except for free fluorine
· Pressure Limit: 350 psi (24 bar)
· Heat Conductivity: 30% better than standard PTFE
· Shaft Speed: 2800 fpm (14.2 m/s)
Typical Applications:
Extended life in pumps, agitators, mixers, blenders and most FDA compliant applications.
Palmetto remains at the forefront of industrial improvements, developing new packing materials for our customers.
We are committed to bringing you the most effective packings on the market and will continue our investment in new solutions to meet your most critical sealing requirements.
Palmetto Packings is a leading manufacturer of high-quality packing materials for pumps and valves. Packing is used to provide a "compression seal" for pumps and valves. Packing is also called pump packing, valve packing, braided packing, compression packing and mechanical packing.

With more than 100 years of demonstrated material expertise, we deliver premium packing solutions to solve demanding challenges across a wide variety of industries. We offer many different packing materials from PTFE, PTFE/graphite like 100% GFO®, carbon, aramid, flax, acrylic, flexible graphite, graphite and more.
You can trust Palmetto to keep your business running and manage your most critical sealing applications.
Ash Gasket & Soot Blower Packing
Palmetto Packing Recommendation Guide
---