Ideally suited for high temperature applications.
Product Announcement from Palmetto, Inc.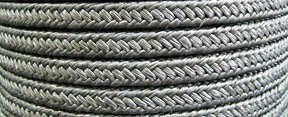 Styles 1570, 1575 and 1578 are excellent carbon packings for high-speed, high temperature applications. They are stronger, lower cost alternatives to Palmetto styles 1580, 1585 and 1588. These styles service high-temperature applications that require wide pH range and durability.
Style 1570 has a wide pH range for chemical and caustic applications and is durable enough for abrasive media. Also available as style 1575 with a graphite coating or style 1578 with a PTFE coating. Ideal for difficult slurry media found in pulp & paper, mining, etc.
---