Palomar 9000 Wedge Bonder
Featured Product from Palomar Technologies, Inc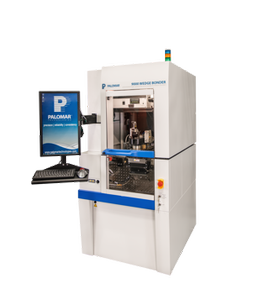 The Palomar 9000 Wedge Bonder is a high-speed fine wire wedge and ribbon bonder with optional interchangeable clamps for 45-60° and 90° deep access bonding on a single machine.
The large 304 x 152mm work area provides users flexibility to work with many different work holder sizes and tooling. For high-volume production requirements, online conveyor with automated part loading are easily integrated.
These 10 key differentiators help customers achieve modern wedge bond requirements:
Large work area: 304 x 152 mm
Bond Head rides on Theta for better process control
No surface touch using Auto Focus and automated height learning
High-speed: 7 Wires Per Second
45-60° to 90° wire feed clamp interchangeability
Round wire and ribbon wire can be performed using the same clamp
Adaptive Bond Deformation standard
Voice Coil driven bond head for precision force control
High precision: 1um, 3 sigma
Portability of programs between other Palomar wire bonders
VisionPilot® with Radar Referencing® software enables faster automated finding of package references, improved vision finding, and the ability to find components that blend into the package (such as gold on gold). This is especially useful with borderless capacitors on a package, molly tabs and horizontal feed through pins.
Applications:
RF-SOE
Disk drives
Large complex hybrids
RF and microwave devices
High frequency passive and active components
MCM power connections
Fine pitch devices
Running stitch interconnects (die-to-die)
Ribbon bonding
Low profile wire bonds
Features:
Large bonding area: 305 x 150 mm (12" x 6")
Automated material handling for full production line assembly. Unheated and heated work stages available.
Quality control. Real-time bond monitoring and process control software. Robust, low maintenance voice coil bond head
Three entry points for unobstructed access to the complete large work envelope: part access door, hood access door, tooling access door
i

2

Gi

®

Graphical User Interface
Mouse-based jog and targeting, with touch screen capability