Power Modules Fuel the EcoPower Revolution
Featured Product from Palomar Technologies, Inc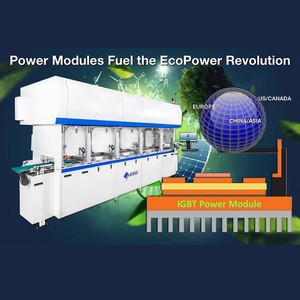 With all eyes on 2050 and the mid-century point, a highly ambitious series of global programs are in place to reduce carbon emissions simultaneously aiming to upgrade all forms of transport with their green equivalent—land, air, sea. Electric power stands at the center of this revolution, and at the center of the center stands the power module. Within this particular ecosystem, two principle types dominate power modules: the metal–oxide–semiconductor field-effect transistor or MOSFET power module and the insulated-gate bipolar transistor or IGBT power module. These modules provide the physical containment for components governing the practical operation, for example, as a switching element in power converters allowing variable speed drives to stop or start or vary the power flow. This blog pays principle consideration to IGBT modules.
IGBT power-modules come in a variety of voltages, current ratings, topologies, and applications. The requirements for a carbon-free economy are, however, significantly widen market growth beyond electric vehicles to elevators, motor converters, solar energy, welding, industrial frequency converters, pumps, large scale medical devices, and many additional daily human life influencing Applications. This, in turn, is shaping packaging technologies in the direction of power density and module integration, as well as making issues of performance, efficiency, longevity, and reliability more critical than ever. All those mentioned above must be met with cost-effective, innovative solutions that are concomitantly geared to move with the dynamics—and surprises—of evolving technologies.
In terms of growth specifics, decarbonization is by far the most significant factor behind driving future demand for power modules and the technologies they enable. The IGBT Power Module market has been forecast to grow at 9.2 percent CAGR between now and 2026 reaching an estimated value of US $9.9 billion (Fortune and Business Insights, January 2020).
Click MORE INFO to read the entire article.