Replace your 2460/6000/8000 with 8100 Wire Bonder
Featured Product from Palomar Technologies, Inc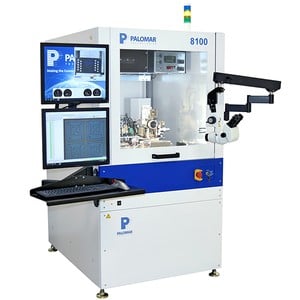 For making interconnects between an integrated circuit (IC) and to other electronics or a PCB, there is nothing more cost-effective and flexible than using a fine wire ball bonder. Palomar is the leader in fine wire ball bonding and last year launched our latest edition to the Palomar family – the 8100 Wire/Ball Bonder.
Based on Palomar's proven design, the 8100 has taken fine wire bonding to new levels of productivity and efficiency for operators and engineers.
Increased operator efficiency with a user-focused bonder layout
Decreased operator fatigue with ergonomic features
Simplified control and real-time process monitoring
Flexible application range with new control methods for higher quality and reliability
Increased productivity with VisionPilot® and Vision Standardization™
Improved yield and utilization with Bond Data Miner
Wait no longer to replace your old Palomar wire bonder with the state-of-the-art in fine wire bonding.
Contact us today to take your wire bonding to the next level.