SST 8300 Series Automated Vacuum Pressure Soldering System
Featured Product from Palomar Technologies, Inc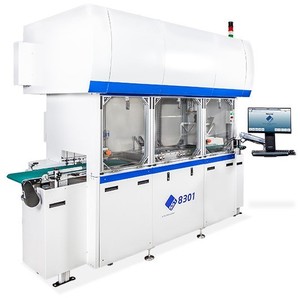 The SST 8300 Series is an automated vacuum pressure soldering system designed to deliver a reliable low-void, flux-less solder process using precise combination of vacuum and gas pressure. Featuring conveyor belts and a Cartesian gantry, the system provides high volume, high reliable packages through precise control of the soldering process. Available with a single or triple chamber, the system allows for heating up to 500°C and fast cooling in an inert gas environment from vacuum levels below 50 millitorr to pressures up to 40 psig using the QuikCool™ cooling unit.
Key benefits of the 8300 Series include:
Automated high-volume production vacuum pressure soldering system
Enables low-void solder connections with preforms or with solder paste
Offers maximum flexibility for processing a wide range of solder alloys and other alternative interconnect materials
Each chamber of the SST 8303 runs a complete process allowing multiple processes to be run in parallel
Flexible configuration for any production line: single (8301) or triple (8303) chamber
Oxide removal technology using formic acid or forming gas
The SST 8300 Series Automated Vacuum Pressure System can operate as a stand-alone unit or can be integrated into an automated production line. A Cartesian gantry system is used to automatically shuttle part carriers in/out of each chamber, performing each movement with high accuracy and precision.