Flow Measurement for Food Beverage
Featured Product from Panametrics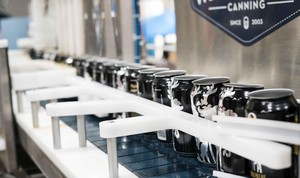 The food, drinking industries are usually characterized by a high water consumption and considerable waste water dis-charge volumes.
For this reason, they face significant costs for water supply and trade effluent disposal. In addition to that, there are pumping, water and effluent treatment costs to be considered.
Expenses for water supply and waste disposal, increased global competition in Food & Drinking industry, rising of raw material prices and energy supply rates drive the importance of having more efficient and optimized production processes.
For these reasons, almost every type of business in the food, drinking industry should monitor its liquid flow processes in greater detail.
Typical Processes
Liquid and convenient food manufacturers

Dairy farms and creameries

Beverage companies
Ultrasonic Flow Meters Offers
Hygenic: Panametrics Ultrasonic clamp-on flow meters are hygenic by nature as it will be installed by clamping the ultrasonic sensors to the outside of the pipe. There are not instrusions created at any time which could allow bacterial growth inside the pipe.
Wide range of measured fluid: As the ultrasonic sensors are never in contact with the flowing mediums, clamp on ultrasonic flow meter models PT900 (portable) and AT600 (permanent installation) can be used on many different applications regardless of the type of fluid.
Low response time: with a response time of less than one second, Panametrics Ultrasonic clamp-on flow meters can measure rapidly changing velocities. They are capable of gaining almost instant readings of starting flow.
High process temperature range: the ultrasonic sensors are designed to withstand temperatures ranging from -200 °C to +400 °C. They can be used on any application involved in or related to the food and drink production such as chilling and heating stages.
Thermal energy consumption metering: whether you want to determine the cooling rated during any food & drinking processing cooling process or if you want to measure temperature related energy consumption to fine tune heating or cooling systems for higher system efficiencies: Panametrics Ultrasonic clamp-on flow metes enable the user to monitor the temperature changes of almost any flowing liquid.
Typical applications for Panametrics Ultrasonic clamp-on flow meters:
Pump, valve and inline flow meter performance verification
Heat quantity measurement on heating and chilling lines
Water and raw material consumption monitoring
Flow metering of liquid products and ingredients
Monitoring of CIP flush processes
Pump and valve controlling
Metering of discharges
Site surveys
Explore our latest technologies and all the ways Panametrics can help you achieve more across your operations.
Panametrics
Panametrics has been a pioneer in the sensor technology industry for more than 50 years. With an innovative culture, Panametrics continues to develop solutions for moisture, oxygen, liquid flow, and gas flow measurement.
Panametrics technology covers broad moisture, gas and flow needs, including Moisture Analyzers, Flow Measurement in Flare Applications, Ultrasonic Transducers for Gas Flow Operations, Ultrasonic Meters for Natural Gas, and Calibration And Support Services.