Flow Meters
Featured Product from Panametrics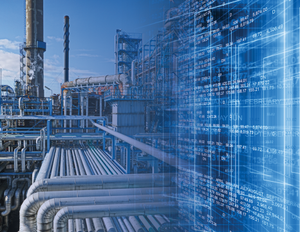 Flow Meters
Panametrics Flow Meter Case Study
Improving plant safety, efficiency, and profitability through accurate and reliable flow measurement.
A Baker Hughes business since 2002, Panametrics first entered the ultrasonic flow meter and flow measurement instrument market more than 50 years ago by introducing its state-of-the-art gas flow meter.
Today's Panametrics brand has continued to excel, with ultrasonic and vortex flow meter products and services for measurement of liquids, gases, and steam across a wide range of industries and applications.
Well-known for its high-technology in-line and clamp-on flow meters, Panametrics provides engineers and technicians with the tools designed to handle the toughest environments and most challenging applications.
In many industries, process control relies on knowing exactly how much fluid flows through the pipelines in order to optimize efficiency, maximize profit, and remain in regulatory compliance. In a most direct way, flow meters measure the flow rate, or quantity, of liquids, gases, and steam using a variety of technologies.
Panametrics offers a wide range of flow measurement instruments from in-line, wetted, and clamp-on, to portable and insertion flow meter solutions for all of your flow measurement needs. Our Flare Gas Flow Meters use a proprietary algorithm that immediately determines the molecular weight and mass flow rate of the flare and sweep gas providing you with critical flow data. Our Process Flow Meters, which come in both ultrasonic and vortex varieties, are excellent solutions for the accurate measurement of various fluids in your pipeline. When you're transferring ownership of high-value raw and refined assets like petroleum and crude oil, our Custody Transfer Meters are designed to give you accurate, reliable figures you can trust.
Refinery Solutions from Panametrics
Discover next generation solutions for minimal risk and maximum performance
For 60 years, we have been solving the challenges our customers experience everyday across the oil and gas industry. Now more than ever, we know how critical it is for refineries to produce more output at a lower cost, efficiently and safely. And we're here to help.
Our commitment to innovation and partnership has led Panametrics to become the industry leader in moisture and gas measurements, flare management, flare measurement and ultrasonic flow metering applications. We've worked with partners like you to create powerful solutions that will keep your operations up and running, even in the harshest conditions—all while increasing throughput and meeting stringent regulations.
Explore our latest technologies and all the ways Panametrics can help you achieve more across your operations.
Panametrics
Panametrics has been a pioneer in the sensor technology industry for more than 50 years. With an innovative culture, Panametrics continues to develop solutions for moisture, oxygen, liquid flow, and gas flow measurement.
Panametrics technology covers broad moisture, gas and flow needs, including Moisture Analyzers, Flow Measurement in Flare Applications, Ultrasonic Transducers for Gas Flow Operations, Ultrasonic Meters for Natural Gas, and Calibration And Support Services.