Panametrics Process Flow Meters
Featured Product from Panametrics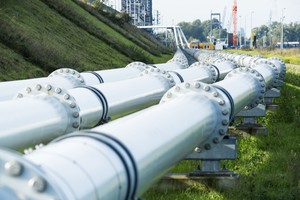 In many industries, process control relies on knowing how much fluid flows through the pipelines in order to optimize efficiency and maximize profit. Flow meters measure the flow rate, or quantity, of liquids, gases and steam using a variety of technologies.
Among these technologies, ultrasonics remains one of the fastest growing in the oil & gas industry because of its accuracy, reliability and diagnostic capabilities. With no moving parts to wear out and no obstruction to the flow, ultrasonic flow meters provide an overall cost of ownership lower than that of mechanical flow meters and older flow meter technologies.
The Vortex flow meter is an equally cost-effective alternative, offering a variety of applications with multi-parameter measurement capability for liquids, gases and steam.
A Baker Hughes business since 2002, Panametrics first entered the ultrasonic flow market more than 50 years ago by introducing its state-of-the-art gas flow meter. Today's Panametrics brand has continued to excel in the industry and is well-known for its high-technology inline and clamp-on flow meters that enable engineers and technicians to operate in the toughest environments and handle the most challenging applications.
Panametrics
Panametrics has been a pioneer in the sensor technology industry for more than 50 years. With an innovative culture, Panametrics continues to develop solutions for moisture, oxygen, liquid flow, and gas flow measurement.
Panametrics technology covers broad moisture, gas and flow needs, including Moisture Analyzers, Flow Measurement in Flare Applications, Ultrasonic Transducers for Gas Flow Operations, Ultrasonic Meters for Natural Gas, and Calibration And Support Services.