Refinery Solutions
Featured Product from Panametrics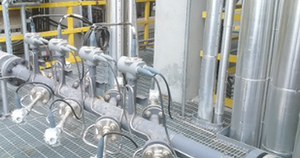 Refinery Solutions from Panametrics
Discover next generation solutions for minimal risk and maximum performance
For 60 years, we have been solving the challenges our customers experience everyday across the oil and gas industry. Now more than ever, we know how critical it is for refineries to produce more output at a lower cost, efficiently and safely. And we're here to help.
Our commitment to innovation and partnership has led Panametrics to become the industry leader in moisture and gas measurements, flare management, flare measurement and ultrasonic flow metering applications. We've worked with partners like you to create powerful solutions that will keep your operations up and running, even in the harshest conditions—all while increasing throughput and meeting stringent regulations.
Explore our latest technologies and all the ways Panametrics can help you achieve more across your operations.
Panametrics
Panametrics has been a pioneer in the sensor technology industry for more than 50 years. With an innovative culture, Panametrics continues to develop solutions for moisture, oxygen, liquid flow, and gas flow measurement.
Panametrics technology covers broad moisture, gas and flow needs, including Moisture Analyzers, Flow Measurement in Flare Applications, Ultrasonic Transducers for Gas Flow Operations, Ultrasonic Meters for Natural Gas, and Calibration And Support Services.