[WEBINAR] Optimize your complete flare operations
Featured Product from Panametrics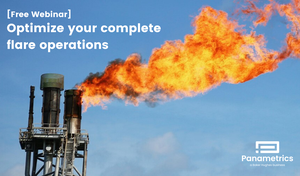 flare.IQ can help your company optimize the complete flare system to meet your daily flaring needs, such as:
Monitor GHG emission
Stay in compliance with regulations
Reduce the logistical and operational cost of building necessary scaffolding to inspect your flare meter
Remain on-line while the flare meter is digitally verified and passes inspection
Minimize EHS and HSE risks of sending people to monitor the flare meter
Optimize combustion efficiency for assisted flares by computing the net heating value at the combustion zone and provide set points to the SCADA to only send the right steam and supplemental gas to the flare tip
Reduce OPEX by optimizing steam and fuel gas usage
Flare Control
Global regulations can often require periodic calibration checks on flare vent gas meters. If a flare meter is not regularly and properly maintained a meter failure can cause significant refinery or plant downtime and possibly incur penalties due to non-compliance.
Digital Verification
The Panametrics flare.IQ digital verification platform allows operators to meet regulation-mandated meter verifications. Prob verifications of ultrasonic flow meters usually require removal from the process in order to inspect and test. The digital verification platform sends data, not people, which saves your company time and costs while reducing risk.