What exactly is flare optimization?
Featured Product from Panametrics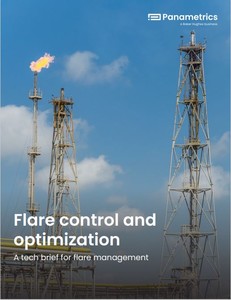 Flare control and optimization
A tech brief for flare management
In oil and gas operations, real-time flare optimization has significant and far-reaching consequences. Using ultrasonic flare control solutions makes it possible to improve Return on Investment (ROI) while simultaneously seeing advancements in safety, mitigating risk and reducing potentially negative environmental impact.
See how Panametrics' flare.IQ can help improve the efficiency of your flare operations.
Panametrics
Panametrics has been a pioneer in the sensor technology industry for more than 50 years. With an innovative culture, Panametrics continues to develop solutions for moisture, oxygen, liquid flow, and gas flow measurement.
Panametrics technology covers broad moisture, gas and flow needs, including Moisture Analyzers, Flow Measurement in Flare Applications, Ultrasonic Transducers for Gas Flow Operations, Ultrasonic Meters for Natural Gas, and Calibration And Support Services.