Pin Type Lithium Ion Batteries
Featured Product from Panasonic OEM Battery Group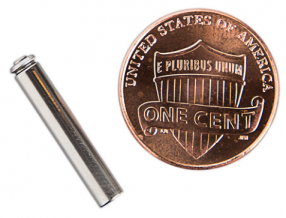 The industry's smallest cylindrical shaped rechargeable Lithium Ion battery which features high reliability and high output and is ideal for powering small devices such as wearable devices.
A 3.6mm diameter pin-shaped lithium ion battery which expands design options for micro devices.
A rechargeable battery that can be used repeatedly and has the output capability required for Near Field Communications.
A high-strength metal exterior can provides excellent reliability
Download Data Sheet for more information.