V Series Optical Connectors
Featured Product from Panasonic OEM Battery Group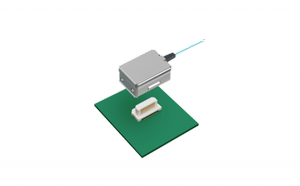 The Bi-Directional 1-Channel Type V Series Active Optical Connector is able to reverse the dual core optical fiber transfer in each direction simultaneously which makes it ideal for applications where mutual high speed transfer is needed between connected PC boards up to 8 Gbps.
The 2-Channel Uni-Directional Active Optical Connectors are able to use the same dual core optical fiber in one direction which makes them ideal for high-capacity transfer applications transmitting a maximum speed of 8 Gbps for each channel or 16 Gbps altogether.
Due to their compact design, it is possible to easily integrate these Connectors into products where space is at a premium. The V Series has a vertical insertion form factor and exhibits impressive noise reduction and electrical isolation.
Features And Benefits
High-Speed And Wide Data Rate Optical Transmission
Noise Immunity And Electrical Isolation Allows Use In Noisy Environments And Protects Users / Devices
Built-In Laser Diode and Photodiode
Plug Is Embedded With Electrical/Optical Conversion Function
Small, Integrated Cable And Plug Enables High Density Mounting And Easy Assembly
Easy Integration in Compact Devices
RoHS/REACH Compliant