Automatic Cable Tie Tool - PAT 4.0
Featured Product from Panduit Corp.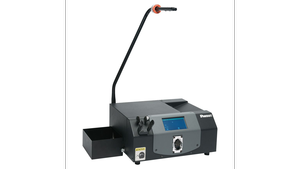 Automatic Cable Tie Tool. To remain competitive, manufacturers are faced with the constant struggle to increase throughput, reduce lead times, and meet customer expectations. The Panduit PAT 4.0 Automatic Cable Tie Installation System addresses these challenges by introducing a series of next generation features and functionality to transform wire bundling and assembly as you know it.
Allows user to apply cable ties to a maximum bundle diameter of 0.82", 1.31", 1.94", and 2.75", in three tensile strengths for application flexibility and versatility.