Labeling Software Makes Customized Labels Easy
Featured Product from Panduit Corp.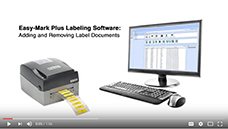 Generating labels has never been easier. The new Easy-Mark Plus™ Labeling Software provides all sorts of advanced features such as 'drag and drop' functionality and wizard tools to help you create customized labels to suit your specific needs. Plus, you can rely on familiar features you already like such as data import, symbol import, and pre-loaded label formats. Panduit helps you manage labeling for a variety of identification and safety applications to help you maintain a compliant and safe work environment.
Available in multiple media options such as CD, USB flash drive, web download, or networkable versions. Now you have the flexibility to install the software version that best suits your needs. Easy-Mark Plus™ Software is designed for users who have advanced labeling needs for regulatory compliance, safety awareness, and improved production processes. PRINT IT YOUR WAY!