HOT OIL SYSTEMS FOR INDUSTRIAL LAUNDRIES
Featured Product from Paratherm — Heat Transfer Fluids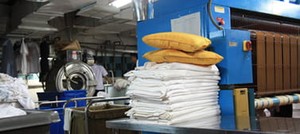 HOT OIL SYSTEMS FOR INDUSTRIAL LAUNDRIES
Gaining in popularity, thermal oil systems used to heat flatwork ironers offer greater productivity per unit floor space. System corrosion, condensate return and steam trap maintenance are eliminated. There is no water treatment or discharge problem, and operating costs are substantially reduced through system efficiencies. And, in most areas of the country there is no need for expensive licensed operating engineers.
PRODUCTIVITY
While steam systems generally operate to 350°F, thermal oil systems can easily provide 450°F – with the pump discharge providing only enough pressure to overcome pipe friction. To compare, an oil heated 3-chest ironer with parallel flow can provide about the same output as a 5-chest steam-heated unit.
And because of the low pressures common in thermal oil systems, the chests can be fabricated of steel rather than the cast-iron required for steam systems. Not only is this a cost savings, but heat transfer is improved with steel, and the lower number of chests saves valuable floor space.
See more info here: https://www.paratherm.com/applications/industrial-laundry/
CONTACT US TODAY
Address:
2009 Renaissance Boulevard
King of Prussia PA 19406 USA
Phone: 800-222-3611
Fax: 610-941-9191
Email: info@Paratherm.com