Low-Temp...Heat Transfer Fluid
Featured Product from Paratherm — Heat Transfer Fluids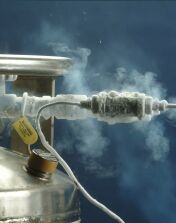 Paratherm CR® heat transfer fluid is a unique blend of synthetic components formulated to provide superior cooling performance in closed-loop heat-transfer systems operating down to -88°C (-127°F) yet is capable of maintenance free operation up to 218° C (425°F).
Get 10ºC colder without changing your equipment…
20% Increase in Flow Rate
No Equipment Modifications
10°F Lower Operation, Same Viscosity
Aerospace Testing Fluid
Fine Chemical Processes,Pharmaceutical Production
Click here for more information.
ABOUT US
We're a team of service-oriented people with a variety of training, skills, and experience.
Our sales engineers can help you select the appropriate heat transfer fluid for your temperature control application, or select the cleaner and procedure to properly clean a fouled system. If your circumstances don't match up with our offerings, we'll suggest competitors that have the stuff you need.
Paratherm's Technical Services section can help troubleshoot an ailing process, or design fluid and system maintenance programs to prevent problems from arising in the first place.