Geared Motors for Mobility Scooters
Featured Product from parvalux by maxon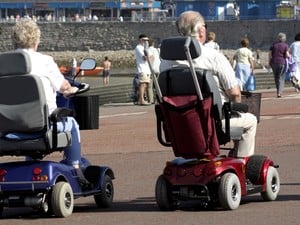 In a similar fashion to stairlifts, the demands of an aging population mean that the need for mobility scooters and of course, mobility scooter motors, is forecast to grow significantly. Parvalux has more than 70 years of experience in manufacturing motor and gearbox combinations and we are proud to be providing successful mobility scooter electric motor solutions for this demanding market.
Why choose Parvalux for mobility scooter motors?
When you choose Parvalux mobility scooter motor solutions for your next project, you can expect only the highest level of knowledge and service, combined with a purpose-built motor for your application.
Our electric motors are highly efficient, which means that with Parvalux, mobility scooters can go further on a single charge. We're very familiar with the specific requirements of this type of application, which means we're able to help design in a smooth and comfortable experience for your customers, as standard.
Quiet and reliable operation are features your customers will appreciate too, so this is our number one priority when manufacturing mobility scooter motors.
We offer both standard and customisable options, meaning we can tailor your motor to your exact needs and requirements. Browse our full range of mobility scooter motors below.