High Power RF Fixed Attenuators - 6 GHz and 18 GHz
Featured Product from Pasternack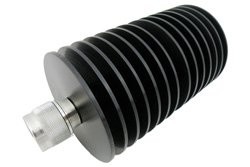 Pasternack now offers 31 high power, fixed attenuators which offer attenuation levels of 3 dB, 6 dB, 10 dB, 20 dB, 30 dB and 40 dB. Additionally, in-series connector gender interfaces are available in male-female configurations with both SMA and Type-N connector options.
These new fixed RF attenuators boast power ratings of 10 Watts, 25 Watts, 50 Watts or 100 Watts and a peak power rating of 500 Watts. The 10 Watt and 25 Watt versions feature bi-directional operation, while the 50 Watt and 100 Watt models support directional operation. Additional features include VSWR as low as 1.2:1, flat RF response and performance, and an RFI-resistant design.
The attenuators are constructed with black anodized aluminum heatsink bodies and are designed with large cooling fins which aid in heat dissipation at high temperatures.