Programmable and USB Controlled RF Attenuators
Featured Product from Pasternack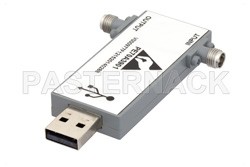 Programmable attenuators, also known as voltage controlled attuators, are available in 50 Ohm impedance. Our voltage controlled programmable attenuators are available with SMA connectors and RF dB attenuation values that range from 1 dB to 63 B. The frequency range of our voltage controllede attenuators is from 1 GHz to 18 GHz. This product line has the power handling up to .5 Watts at 1 GHz.
Pasternack programmable voltage controlled attenuators is a female gender. This voltage controlled variable programmable attenuator can be bidirectional, depending on the power rating. Our programmable voltage controlled attenuators are manufactured to precise industry specifications.
Pasternack's ISO 9001:2008 registered facility ships our voltage controlled programmable attenuators the same day from the broadest, deepest inventory of microwave and RF part numbers on hand. Exceptional technical support and customer service are available to support you with your programmable attenuator questions.