RF Dummy Loads / Terminations
Featured Product from Pasternack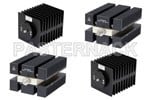 RF dummy loads (also know as loads and terminations) are available in 2.4mm, 2.92mm, 7/16 DIN, BNC, C, Mini SMB, Mini SMP, N, QMA, SMA, SMB, SMC, SMP and TNC connector types. RF dummy loads from Pasternack are available in two categories, feed-thru and RF load. Pasternack dummy loads for RF include precision and standard versions and many are RoHS and REACH compliant. 0.25 Watts, 0.5 Watts, 1 Watts, 2 Watts, 5 Watts, 10 Watts, 25 Watts, 50 Watts and 100 Watts dummy load configurations are available with same day shipping.
Dummy loads are offered with impedance values of 50 Ohm, 75 Ohm or 93 Ohm. The frequency ratings for these coaxial dummy loads range from DC to 50 GHz. RF loads are available in female, jack, male, male to female and plug genders. Our RF dummy load varieties are RoHS and REACH compliant.
Our ISO 9001:2008 registered manufacturing facility ships RF coaxial dummy loads the same day from the deepest, broadest inventory of microwave and RF products available. Exceptional customer service and technical support are on hand to support our customers on RF terminators.