Fully Automatic Case Packer for Horizontal Packing
Product Announcement from Pearson Packaging Systems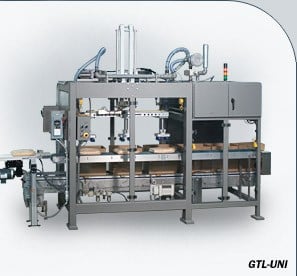 Model GTL-UNI Case Packer (Goodman Universal™) Overview
The GTL-UNI Case Packer (Goodman Universal™) from Pearson Packaging Systems is a fully automatic case packer for horizontal packing, custom built to your project specifications.
Designed to Perform

The GTL-UNI utilizes a 4-axis system to pack flexible, rigid or semi-rigid products into any type of case, tray or other shipping container at speeds up to 200 packages per minute. All pick & place motions and case transfers are servo controlled for smooth and reliable handling of your product and cases.
The GTL-UNI is custom built based on your packaging requirements. It can be equipped with one or two product conveyors, allowing for two sources of product to infeed into the packer. The layer forming conveyors are also customized based on the product type being packed. High speed applications are enhanced with additional pick heads or the patented Independent Carrier System (ICS) conveyor.
Fast Changeover Capability
With a two minute no-tool changeover, the GTL-UNI can run different pack patterns quickly, reducing your downtime. Need to pack a new product? The GTL-UNI is easy to redeploy to different packing lines with simple programming changes and affordable change parts for new infeeds and pack patterns.
Reliability Plus
The GTL-UNI is engineered and manufactured for continuous, reliable performance. Because Pearson Packaging Systems employs the very latest in lean manufacturing and Six Sigma quality control processes, you can rest assured that the GTL-UNI will meet your needs for many years to come. Plus, every GTL-UNI is supported by Pearson's team of service and technical support professionals who are available 24-hours a day, 7-days a week—worldwide.
Additional GTL-UNI Case Packer Information
Download an informative product sheet showcasing the features, benefits, and dimensions of the Pearson GTL-UNI Case Packer (Goodman Universal™), or for more information contact your Pearson Regional Sales Manager or call us toll-free at 800.732.7766.
---