Cooling Fans - Xtra High Airflow and Efficiency
Featured Product from Pelonis Technologies, Inc.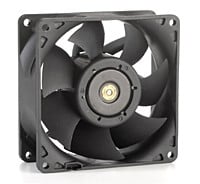 Pelonis Technologies -K9238-7 series fans can also be designed to perform in environments where there is significant dust, moisture and direct water exposure. Proprietary conformal coating technology is environmentally friendly, has low friction characteristics, and is corrosion resistant.
IP (Ingress Protection) codes define how well an enclosure protects against the external environment. As the number gets higher, the protection gets better (e.g. IP54, IP56, and IP67 protection) These fans can be used in a wide variety of applications including emergency vehicles, military and mobile units, medical systems, field and ground support equipment, marine products, security cameras, control equipment, and indoor/outdoor cooling applications where dirt, dust and high humidity conditions exist.