Thermal Management products from PTI
Product Announcement from Pelonis Technologies, Inc.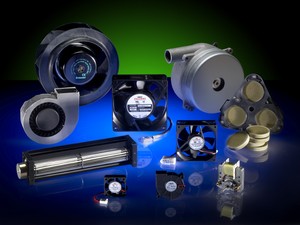 Select from a complete line of cross flow fans, backward curve impellers, mini fans and blowers, induction motors, and energy efficient PTC ceramic heaters.
Pelonis Technologies - can provide value added services by incorporating specialty components to our products to suit your specific applications. For fans, we can add specified connectors, custom lead wires, PVC tubing, and conformal coating for moisture resistance. For heaters, our exclusive honeycomb ceramic heater configurations can be combined with fans and fan filter kits for compact energy efficient heating systems.
Pelonis Technologies provides complete solutions and offers unique advantages that enable you to:
Customize your application with fan and blower specifications to meet your airflow, pressure, and low noise requirements.
Reduce power consumption in your equipment by choosing our energy efficient cooling products that have low operating current and advanced programmable PWM speed controls.
Utilize safe, energy efficient fan forced heating technology by combining various size fans with our exclusive honeycomb PTC heater configurations.
Add extra protection to your device by choosing from fans and blowers with IP rated conformal coatings that protect from moisture and high humidity environments.
Reduce multiple vendors by choosing a one-stop solution for your value added projects.
Reduce lead times and realize quick turnaround for large and small orders.
Complement your Just-In Time production systems with our on-time scheduled delivery programs.
For additional information, contact us for your specialty medical application requirements:
sales@pelonistech.com
T 1.888.546.0524 F 1.610.594.5005
---