Temperature Controllers - 4-Phase, and Digital
Featured Product from Pelonis Technologies, Inc.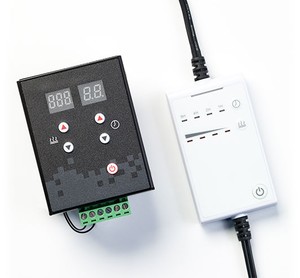 Pelonis Technologies' diverse selection of temperature controllers are equipped to meet the regulatory needs of any application. Our product offerings include Micro, 4-Phase, and Digital temperature controllers with wide-ranging capabilities.
Temperature controllers are precision instruments used to regulate the amount of heat provided by a given system. Temperature regulation is an important aspect of industrial heating; your system and its internal components can be severely damaged if temperature levels rise or fall outside of the ideal operating range.
Pelonis Technologies' line of innovative temperature controllers can accurately gauge the heat levels within a given system, while providing automatic adjustments depending on your specific application needs. Our product line includes:
MT Series Micro Temperature & Time Controller – This series is small and lightweight—ideal for applications in tight, restrictive areas. The easy-to-use Micro Controllers don't require additional controls, and are fitted to your existing applications without the need for different circuit layouts. The MT Series features an ON/OFF control method, and can be customized with over 10,000 specifications.