Gas Monitor & Controller: PT2000/H Series
Product Announcement from Pem-Tech, Inc.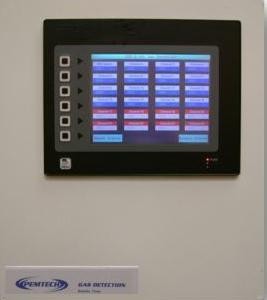 Model PT2000/H Series is PLC based gas monitor & controller used to monitor multiple gas detectors. The unit is fully programmable using the color touch screen. No PLC programming software is required. System uses quad channel 800 series Analog Input and relay modules. Eight (8) or more relays can be configured for activating Audio/Visual Alarm devices. An optional MODBUS TCP/IP Ethernet port is also available to export data to user PLC or SCADA.
An optional Cell modem is also available to provides ability to transmit short text message for Alarm Callout over cellular network.
Features:
Discrete I/O Modules
Sensor Interface: 4-20mA transmitter or Addressable serial type
Dual RS-485 Ports
Optional Cell Modem for Alarm Call out
Historical data Logging.
Optional Wireless Gateway for Ultra1000 Series Wireless Gas Detectors.
8" Color Touch Screen
Easy menu driven System configuration.
Specifications:
Sensor Interface
Standard 4-20mA transmitter (PT295 Series).
Addressable Sensor with MODBUS RTU Communication. (Ultra1000 Series)
Ultra1000 - Wireless Sensors (Optional)
Up to 96 Sensors using Quad Channel Analog Input Modules
Up to 32 Serial - Ultra1000 Serial
Up to 120 Wireless Sensors using 800 Series Wireless Gateway
Enclosure - Nema 4X Fiberglass Enclosure Operating Temperature - 0°C to +50°C Display - 8" Color Touch Screen Status Indicators - Yellow and Red LED alarm Indicators Alarm Relays 8 each Form "C" type Alarm Relay Contacts Rated 2 Amps at 30VDC and 240 VAC Power Input - 110/220 VAC (50-60 Hz) or 24 VDC Enclosure Dimension Length: 19 inches Width:16 inches Height: 10 inches
Options:
800 Series Wireless Gateway
Quad Band Cell Modem for transmitting text messages over cellular network
Repeater / Mimic panel
Warranty - One year
View our full range of toxic and combustible gas sensors, monitors and analyzers:
Hydrogen Sulfide (H2S) Detectors
PT295 Series: Model PT295 is a microprocessor-based sensor for toxic gas detection in parts per million (ppm) level.
PT395 Series Model PT395 Series is a microprocessor-based sensor for the detection of toxic gas in ambient air.
Ultra 1000 Toxic Ultra 1000 series is a microprocessor based addressable sensor for toxic gas detection.
Carbon Dioxide CO2 Sensor - Download Data sheet here
PT605 Hydrogen Sulfide H2S: Model PT605 on stream monitor / analyzer has been designed for the detection of Hydrogen Sulfide in process streams and in Natural Gas Pipeline.
PT605 Carbon Dioxide CO2 : Model PT605-CO2 on stream monitor / analyzer has been designed for the detection of Carbon Dioxide in Process Streams and Natural Gas Pipeline.
H2S Gas Generator: Model PT301N is a rugged and highly accurate microprocessor based Hydrogen Sulfide gas generator.
Calibration Gas Bottles : Disposable Gas Cylinders and accessories for remote sensor calibration.
---