PEM® VariMount® Fastening System
Featured Product from PennEngineering®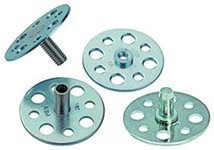 The PEM® VariMount® fastening system is an assembly comprised of a standard PEM nuts, studs or standoffs mounted permanently into a base plate. The assembly can then be fastened or bonded to assorted panel types in a variety of ways.

Mounting Methods Include:
• Mold-in
• Laminate Within Composite Layer
• Surface Bonding
• Rivets
• Loose nuts, bolts, screws
• Self-Clinching Fasteners
• Blind Threaded Rivets
• Hollow Wall Anchors
• Spot Welding
Features:
Base plate provides generous footprint for surface or mold-in mounting.
Radial holes in base plates encapsulate adhesives or molded plastics.
Radial holes accept standard sized rivet diameters.
Radial holes accept standard sized self-clinching fasteners.
Assemblies can be mounted on front or through back of panels.
Self-clinching fastener technology permanently holds fastener to base plate.
A variety of fasteners are available.
The assembly mounts on or in composites, plastics, metal, wall board, or any rigid material or panel. VariMount™ assemblies are available with either steel or stainless steel base plates depending on the fastener that is selected. The VariMount base plate's radial holes provide various mounting options.
Click here to learn more.