Design News Features microPEM® TackSert™ Fasteners
Featured Product from PennEngineering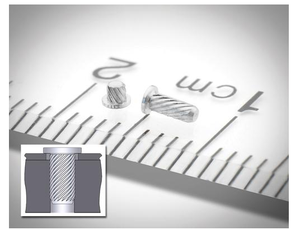 Fasteners, Adhesives Hold Things Together at MD&M West
A new blog from Design News Magazine highlights microPEM® TackSert™ fasteners.
PennEngineering keeps coming up with clever fasteners to solve a wide range of design and manufacturing problems. The latest is no exception. The company introduced a new line of its microPEM pin fasteners as an alternative to micro-screws in compact electronic assemblies. They're designed for lighter-weight materials, including plastics. Last year, I saw them holding together the very small, familiar-looking metallic keyboard of a very large laptop maker who had to remain nameless. This year, the new line is aimed entirely at fastening non-ductile materials, Jay McKenna, PennEngineering's global business manager for microPEM fasteners, told Design News. Besides plastics, this includes magnesium and aluminum laptop and tablet casings.
Click here to view the entire article.