Flush-head Studs with X-Press™ Thread Profile
Featured Product from PennEngineering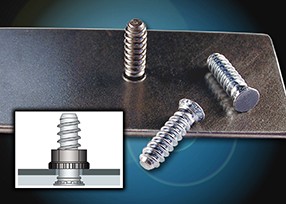 These self-clinching studs are installed in metal sheets by pressing them into place with any standard press. They can also be installed using automated equipment during the in-die process.
PEM® studs with X-Press™ threads are available with 5 mm and 6 mm metric threads. Lengths range from 10 mm to 25 mm.

• Offers fast, reliable attachment.
• Reduces assembly time.
• Allows for lighter assembly.
• Self-clinching stud mounts flush in metal sheets as thin as 1mm.
• Thread design accommodates paints and coatings without compromising performance.
• Self-clinching technology is cleaner and has a more attractive finished appearance than welding.
• Can be installed during the stamping process with PEMSERTER® in-die technology.