DCD Servo Drive for Battery Operated Applications
Product Announcement from PERFORMANCE CONTROLS, INC.®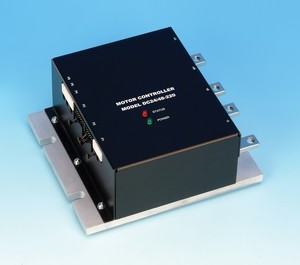 PERFORMANCE CONTROLS, INC. ® announces the DCD Series, a family of four-quadrant and two-quadrant DC motor servo drives that can be optimized to meet the requirements of brushed motor applications. The four-quadrant drives are typically used for traction and steering and the two-quadrant drives are a cost saving version typically used for pumps. The DCD Series can also be customized to simplify installation, add features, or expand the voltage or current range. In addition, the complimentary ADC Series is available for induction and brushless motor applications.
The main power DC bus can be operated from 24 VDC to 48 VDC source. The internal switching power supply (IPS) used to bias the control circuits can be powered from the main power or for an added level of safety it can be powered from a separate supply.
A high degree of flexibility is achieved through application of a high performance Digital Signal Processor (DSP) to perform all control functions. Parameters are available to optimize the motor performance as well as set the acceleration, deceleration, and forward and reverse speed limits. Additional commands can be added upon request.
For applications with dual drive axes, the amplifiers can be operated as a master and slave. Master-Slave operation coordinates multiple axes from a single command, such as with dual traction drive systems, which provides balanced torque between the drives. In addition to the commands, the motor temperature, base plate temperature, fault information, limit switch data, and current feedback are also communicated via the serial bus.
To protect the amplifier and the motor the drives include extensive protection circuits. The "Get Me Home" mode will gradually shut down the drive if exposed to extreme conditions and two LED's provide a visual indication of the drive's status.
The DCD is packaged in an enclosed housing with an aluminum base plate that is used for mounting and heat sinking. The enclosure is designed to protect the internal electronics from contact and external dust contamination (NEMA 1).
The DCD Series is designed for many types of electric vehicles, including...
AGV (Traction, Steering, Lift)
Fork Trucks (Traction, Steering, Lift)
Powered Carts
Power Chair Mobility
Aerial Lift
Airport Support
Robotics
Personnel Carriers
MODELS
25A Continuous, 45A Peak, 1.6HP
50A Continuous, 90A Peak, 3.2HP
100A Continuous, 175A Peak, 6.4HP
200A Continuous, 350A Peak, 12.9HP
Additional voltages and currents available upon request.
Please contact Factory, 215-619-4920
FEATURES & BENEFITS
Digital Tuning
Optimizes performance - Drives are programmed to match the motor
Enables cloning
Eliminates pot drift
Reduces inventory by using same drive for multiple applications
Proprietary High Frequency PWM Modulation Technique
Enables quiet operation
Highly responsive control in Torque, Voltage or Velocity* mode
Efficient use of supply voltage
Decreases heating and losses in motor
Multiple Motor Types
Can be used for Series Wound or Permanent Magnet Brush Motors
MOSFET Power Devices
Optimizes power efficiency for longer life per battery charge
24-48 VDC Operation
Only one model to stock for 24 to 48 VDC systems
Optional Separate Logic Supply
Logic can be powered from main bus or a separate supply as an additional safety measure
Over-Temperature Warning, "Get Me Home" Mode
Warning before fault and linear reduction of peak current limit, which enables the user to continue operating at reduced capacity for a controlled shutdown
Regenerative Braking
Recharges battery while operating
Master-Slave Operation
Coordinates multiple axes from a single command, such as with dual traction drives
Mode is digitally selected; same model works in either mode, which reduces inventory
Internal Closed Loop Speed* and Torque Control
Eliminates need for an external controller
Separate speed limits for forward and reverse
Programmable acceleration and deceleration eliminates jerk
* Requires the motor to have a feedback device
Amplifier Protection Circuits
Over Peak Current – To protect power transistors from excessive power dissipation, shutdown will occur when peak output current is exceeded. This includes shorts to ground.
Over Temperature – To protect against power transistor overheating; shutdown will occur when excessive heat sink temperature occurs. In addition, when the heat sink temperature is greater than 70 °C, the maximum current limit will linearly derate to 0 amps as the temperature rises from 70 °C to the maximum base plate temperature of 85 °C.
Transistor Over Temperature – To protect against power transistor overheating; shutdown will occur when the maximum temperature of a MOSFET has been reached.
Motor Protection Circuits
Peak Current – Peak output current will be limited by controlling the PWM output when the current limit is exceeded.
Over RMS Current – Over RMS current protection will guard against load overheating due to persistent high levels of current. If the RMS limit is exceeded, the peak current will be limited to less than maximum by controlling the PWM output.
Over Temperature – The motor may contain a temperature sensor with an output of 0 to 5 V or a thermostat.
Over Travel Limit switches – These signals are internally pulled up to 24V. If the clockwise input becomes high, the amplifier will not allow clockwise rotation of the motor. Likewise for the counterclockwise input.
Note: The amplifier will ignore the over travel limit switches if the Speed/Steer bit received from the controller is set to Speed.
Contact:
Performance Controls, Inc.
151 Domorah Drive
Montgomeryville, PA 18936
215-619-4920
Joe Venditto jvenditto@pcipa.com
Dierk Benecke dbenecke@pcipa.com
---