Motion Control Solutions for Robotics
Featured Product from Performance Motion Devices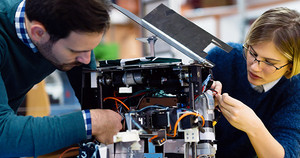 The Robotics Revolution Is Creating Something Truly New
Robotics and adaptive automation is a fast-moving field requiring the very latest in motion control technology solutions. Mobile and airborne systems require ultra-low power operation from motion ICs and motor drives, while automated factory applications demand advanced path planning, data gathering, and choice of communication protocols.
Performance Motion Devices answers the call for advanced robotics and automation solutions with state-of-the-art torque control and positioning ICs that helps you squeeze the most out of your system's Brushless DC, DC Brush, and step motors. Or for a more integrated solution try our ION/CME N-Series Digital Drive which provides a fully integrated single-axis motion control drive in an ultra-compact PCB-mountable package.
We have the motion control components and software you need to design and build your robotic system faster, with more performance, and at a lower cost. We understand your challenges and offer a range of easy-to-deploy motion control solutions, such as integrated circuits (ICs), digital drives, digital amplifiers, and motion control boards.
Wondering how to best control motion for a robotic system you want to create?
Contact us and tell us about it. We'd love to explore how our custom or turn-key ICs, modules, and boards, can best meet your robotics design challenge.