Pro-Motion Development Software
Featured Product from Performance Motion Devices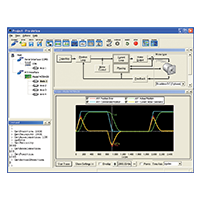 Our easy-to-use Windows-based exerciser and data capture program offers ready-to-go capabilities your entire development team will be able to share. A step-by-step axis wizard allows designers to quickly and easily tune position loop, current loop, and field-oriented control motor parameters.
Pro-Motion features
Rapidly sets up, tunes, and tests motion control systems
Easy-to-use axis wizard setup tool
Motion oscilloscope shows tuning and systems parameters in real time
Tuning of position loop, current loop, and field-oriented controller
Frequency-based servo analysis
Graphical control windows for easy parameters setup
Distance and time unit conversion
Continuous axis status display window
Programmable motion shuttle
Supports PCI-bus, serial, and CANbus communications
Windows 32- and 64-bit compatibility
"Pro-Motion is easy to learn, intuitive, and the API commands are sufficiently powerful. Our customers are impressed when we can troubleshoot and verify what the system is supposed to be doing against what it's actually doing."
-Pablo Gonzalez, senior director of engineering, Crossing Automation, Fremont, CA