Advanced NDT:Electromagnetic Acoustic Transducers
Service Detail from PetroChem Inspection Services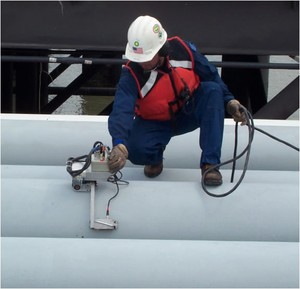 Electromagnetic Acoustic Transducers EMAT can be used on any piping that is physically accessible; dock lines, sleeper racks, and elevated piping.
How it works:
· Electromagnetic Acoustic Transducers EMAT have two probes: a pulser and a receiver. The pulser probe sends an Ultrasonic signal in both directions around the pipe circumference and the receiver receives the signals from both directions.
· Changes in the sound path and time of flight of the UT signal represent changes in the material such as wall loss.
Benefits:
· Rapidly scans piping, providing qualitative results and defect locations for further inspection.
· Can detect small isolated defects, down to 1/8" diameter, as well as generalized wall loss from corrosion and/or erosion.
· With traditional inspection techniques, pipe support interfaces has created a problem by the restricted means of access for data to be collected. Electromagnetic Acoustic Transducers do not require total access to gain the data needed for the inspection. They only need 1/3 of the line circumference to send full volumetric sound through the circumference of the pipe and provide accurate results
· Can provide accurate information for support touch point inspections.

Play Advanced NDT:Electromagnetic Acoustic Transducers Video
---