Advanced NDT: Real Time Radiography (RTR)
Service Detail from PetroChem Inspection Services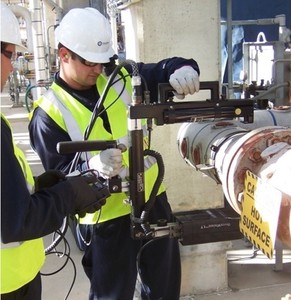 The method uses a standard X-ray system with the addition of an image intensifier or other detector to examine components in real time rather than with film. This allows components to be moved and rotated during the inspection, which results in better inspection coverage at higher inspection speeds.
Real Time Radiography allows the user to detect corrosion under insulation (CUI) easily and rapidly. This technique offers the ability to detect areas of corrosion for further evaluation at a reduced amount of labor and materials, thus reducing cost.
RTR is another tool in the "CUI bag" allowing the focus of maintenance and inspection budgets on areas of greater concern (i.e. identifies areas of wet and saturated insulation).
Many variables contribute to the speed of inspection, but the user can inspect 300' - 500' of pipe a day on average. Additionally, this technique has been used for location of welds in support of PMI projects.

Play Advanced NDT: Real Time Radiography (RTR) Video
---