Petrochemical Mechanical Integrity for OSHA & EPA
Service Detail from PetroChem Inspection Services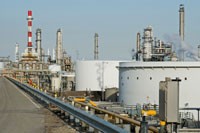 PetroChem has designed and implement process safety management in the nation's largest refineries and chemical plants and brings this expertise (including an in-depth understanding of the codes) to any facility who needs to come into OSHA or EPA compliance.
Features
Free estimates
Piping classification and systemization
Certified API, ASNT, and AWS inspectors
Vendor shop inspection services available
Project audit assessment
Benefits
Guidance for compliance with OSHA regulations
Reliable and cost effective inspection programs defined
Comprehensive inspection procedures
Quarterly audits ensure compliance
PetroChem's approach to Mechanical Integrity is directed toward OSHA 1910-119/API compliance at the lowest implementation cost. How do we do this? We know the code. Classification of pipe circuits is the key to both code compliance and budgetary restraint. PetroChem can establish a program based on code compliance as well as perform the inspection, data analysis, data entry, and AutoCAD requirements needed to implement it.
PetroChem specializes in mechanical integrity inspection programs for piping systems, pressure vessels, tanks and all related components to ensure equipment integrity and fitness for service. To provide the most accurate analysis possible, we have assembled the best team of API Certified Inspectors, Certified ASNT NDT Inspectors, computer specialists and draftsmen in the industry.
Our experience in this field is second to none. Remember, our name is PetroChem Inspection Services, and we are the largest dedicated inspection company in the refining and petrochemical industrial sector.
For more information, contact us.
---