Rope Access Technology
Service Detail from PetroChem Inspection Services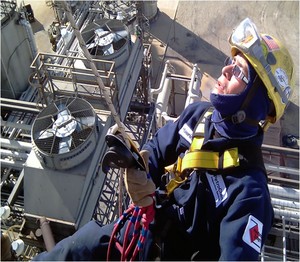 The Rope Access Technology industry has an exemplary safety record as a result of comprehensive guidelines for technique, training and supervision. The Society of Professional Rope Access Technicians (SPRAT) guidelines are the recognized industry standards which PetroChem Inspection Services are members.
Key Benefits of Rope Access:
Increased Safety
Minimal disruption of normal operations.
Reduced project personnel.
Streamlines projects by providing a single point of contact.
Provides realized cost savings on projects through the elimination of scaffolding.
Uses for Rope Access include:
Industry Services
Safe access to problem areas
Overhead lines and towers
Stack and flair access
Furnace interiors and exteriors
Wharf piping over water
Storage tanks
Confined spaces

Play Rope Access Technology Video
---