Stack Lights for Mfg Process Indication
Product Announcement from Pfannenberg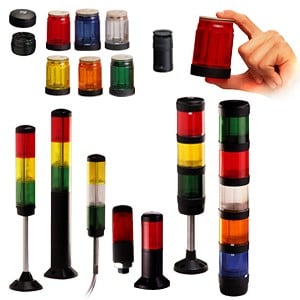 Stack Lights and sounders are indispensible for machines, vehicles, plants and buildings. Pfannenberg offers a variety of Stack Lights, Sounders, Indication Lights and Combination Alarms made for every industrial need.
Stacklights are the most reliable way of informing operators or users. Due to their extreme sturdiness and the associated durability and freedom from maintenance, Pfannenberg signaling devices are frequently found in extreme applications, whether it be in the toughest of environmental conditions or in demanding mounting locations. Our sturdy BR 50 tower is suitable for all indoor and outdoor applications, designed for the rigors of industry. Wall bracket, tube length 100, 250 and 400 mm, LED light 4/4X NEMA Rating.
Pfannenberg is also a Global Leader in providing signal technologies and obstruction lighting for the world's emerging Wind Energy market. Several products are used regularly on wind turbines and solar energy converters.

Pfannenberg Art illumination lights are used for highlighted architectural landmarks, buildings and artwork such as the Eiffel Tower, and the Pont du Normandie:
http://www.pfannenbergusa.com/product/signal/illumination
---