Standard Flange Gaskets for Energy Utilities/Power
Featured Product from Phelps Industrial Products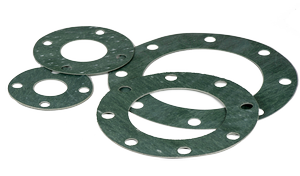 Phelps supports the people who keep the Lights-On, quite literally. Marked by the absolute need to have highuptime in a challenging operating environment, Phelps supports this Industry extensively and through a range of products.
From keeping the store-rooms properly stocked through our great service, to providing just-in-time products to minimize equipment downtime, Phelps has been a great partner to some of the large Power Utilities for many decades.
Common Applications
Turbine cross over piping
Connecting ANSI Standard Flanges
Main Steam Flanges
Coolers
Boilers
Steam Valves
Water Pumps
Steam Generators and Manways
Transformer Gaskets
Natural Gas Line Connections
Standard flange gaskets are manufactured to be compatible with ANSI flanges in accordance with dimensional criteria shown in API Standards 601 and 605. A wide range of tooling contributes to our total capability to supply all standard sizes in 125/150 lb., 250/300 lb., ring and full face styles. We are also fully tooled for a specialized range of full face gaskets specified by the Department of Defense for use by the Departments of the Army, Navy, and Air Force.