Electrical Vehicle Bulk Charging Cable
Featured Product from Philatron Wire & Cable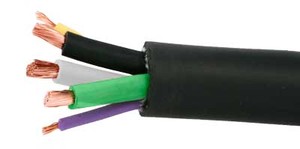 Electrical Vehicle Bulk Charging Cable
Philaflex™ ULTIMATE FLEXIBILITY
Engineered and manufactured to meet the most demanding EV applications, Philaflex™ EV charging cables employ special materials for ULTIMATE FLEXIBITY, maximum life, and exceptional durability.
Ultimate Flexibility
UL Listed
Complies With RoHS
EVE Cables - UL Rated for 600 & 1000 volt power
Available in cable sizes 10 to 4/0 to 500 kcmils AWG
Temperature Range +105°C to -40°C
Resists chemicals, flame, heat, oil, ozone, and water
Available in Private Label and Custom Design
New materials technology and coiled cable meet tough demands for tomorrow's EV charging
Electric vehicles (EVs) bring low emission or even emission-free motoring, and sales are on the rise. In turn, that has increased the focus on charging infrastructure; a greater number of EVs will require more charging stations and those stations will need to offer fast battery charges in a safe and efficient fashion. Consequently, this places new demands on the cables carrying the current from the charger to the vehicle.
EV pioneer Tesla, for example, has already outfitted around 7,600 "supercharger" stations in the U.S. at 1,100 sites. These top-level EV chargers operate at 480 V and up to 250 kW. The charging cables — the critical link between the charger and the EV — must be able to handle these high currents for extended durations. And there are already plans for superchargers that can supply up to 350 kW, further increasing the current carrying requirement of the cables.
But the challenge for EV charging cables goes well beyond high voltage and current capability. The cables also need to withstand external temperature extremes, UV radiation, water, automotive chemicals and more without degrading. Further, in a world where many charging stations are gathered close together, cables must be extra flexible for compact and safe extension and retraction to ensure a safe environment for the public and avoid cable damage from vehicles.
This article explains how Philatron's innovative new Philaflex™ brand of EV cables use new materials and coiling techniques to address the unique challenges of cable charging.....more
About Philatron Wire and Cable
A leader in technology, creativity and innovation, Philatron Wire and Cable is a major wire and cable provider in the USA, manufacturing a full range of wire and cable products. As an industry leader in manufacturing, design, development, technology, and marketing, with over 40 years of service Philatron values core competencies offering copper drawing, roping, cabling, extrusion, injection molding, coiling and assembly. Markets served: Aerospace, Auto/Heavy Duty Trucking, Electrical, Entertainment, Medical, Military, Mining, OEM, Oil & Gas, Transportation, and Utility/Power. Certified ISO/IATF 16949 (Quality Program) & SDVOSB (Veteran Owned Business)