BSL310 Emergency LED Driver for Strip Fixtures
Product Announcement from Philips Emergency Lighting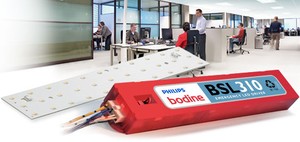 We are pleased to introduce the BSL310 Emergency LED Driver for linear LED strip fixtures. The BSL310 allows users to convert linear LED strip fixtures into code-compliant emergency lighting. The BSL310 will do for LED emergency lighting what our very popular B50 did for fluorescent emergency lighting: set the standard.
Product Highlights
Compatible with LED strips from a variety of manufacturers
Output Class 2 Compliant
90-minute runtime
1300 lumens max. emergency lighting output
Universal input (120-277V, 50/60 Hz)
Operates LED load with a rated stack voltage range of 10-50 VDC
Includes lamp selector
Selectable output current:

Without lamp selector

Minimum 300 mA, 30-34 VDC (optimized range)
Minimum 200 mA, 35-50 VDC

With selector

Minimum 400 mA, 10-29 VDC

Total of six BSL310 models are UL Recognized for either U.S. or Canadian installation. U.S. models include: BSL310, polycarbonate case, no conduit; BSL310M, metal case, no conduit; BSL310C, metal case with conduit. Canadian UL Recognized models (120-277V) include: BSL310-CAN, BSL310M-CAN and BSL310C-CAN.
For factory installation only
For more information, please contact us at 800.223.57.28.

Play BSL310 Emergency LED Driver for Strip Fixtures Video
---