Emergency Lighting Micro Inverter for 25W
Product Announcement from Philips Emergency Lighting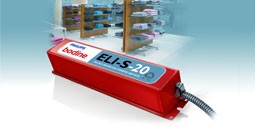 The Philips Bodine ELI Series ELI-S-20 Emergency Lighting Micro Inverter is unit equipment that transforms LED and fluorescent fixtures up to 25W into code-compliant emergency lighting sources. ELI-S-20 is ideal for -- but not limited to -- Edison-base (screw-base) LED lamps and features an LED-friendly sinusoidal waveform.
ELI-S-20 supplies a minimum 90 minutes of code-compliant illumination and powers the designated fixture at full brightness throughout its runtime. ELI-S-20 is suitable for indoor, dry and damp applications. It provides auto select (120/277 V), which automatically detects the input voltage and sets the output voltage accordingly to reduce installation errors. The unit carries a five-year warranty and is UL Listed (25W) and CSA Certified (20W).
More information on this innovative product is available on the Micro Inverter Benefits.
---