Emergency Lighting Solutions for Generator Systems
Product Announcement from Philips Emergency Lighting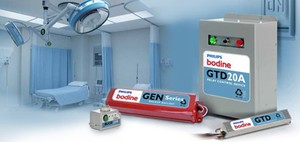 Philips Emergency Lighting offers distinct product families designed to work with generator systems. The GEN Series consists of fluorescent emergency backup ballasts designed to provide interim illumination. The GEN1 and GEN3 fill the gap between failure of normal power and generator power so that lighting is uninterrupted. The GTD Family consists of local switching and transfer devices. The GTD and the GTD20A allow emergency lighting without use of night-lighting circuitry. The BLCD-20B, a control device, complements the GTD Family and, like the GTD and GTD20A, allows emergency lighting without night-lighting.
GEN Series
GEN Series fluorescent backup ballasts provide uninterrupted, high illumination in the interim period between the time of AC power loss and emergency generator start up. In addition, should the generator fail to bring up emergency lighting, GEN Series backup ballasts provide illumination for at least two minutes.
The GEN Series backup ballasts are ideal for healthcare applications, assisted-living facilities, prison staging areas, cash exchange areas, sensitive manufacturing locations and heavy machinery areas. These and similar locations often require constant illumination even during power failures in order to keep people and property safe. Auxiliary generators can take up to 10 seconds to provide power to emergency lighting fixtures when normal power fails.
GTD Family
The GTD Generator Transfer Device and the GTD20A Emergency Lighting Relay Control Device eliminate night-lighting for emergency lighting purposes. Because these devices supply emergency lighting only when it's needed, thousands of energy hours can be saved each year.
In addition to eliminating night-lighting, the GTD and GTD20A make it possible to turn off lights for presentations and other activities without jeopardizing emergency lighting.
The GTD20A is not limited to emergency lighting applications. The GTD and the GTD20A work in conjunction with an auxiliary generator or central inverter system. They are not emergency ballasts.
Lighting Control Unit
The BLCD-20B Emergency Lighting Control Unit is a small (1.7" x 2.97" x 1.64"), easy-to-install device that mounts directly onto a junction box and supports fluorescent lighting loads up to 20A and incandescent loads up to 10A. As with GTD and GTD20A, the BLCD-20B makes it possible to turn the lights off whenever normal lighting is not needed, while preserving critical emergency operation. The device, again like GTD and GTD20A, senses the loss of normal power and energizes emergency fixtures regardless of wall switch position (on/off). The BLCD-20B works with an auxiliary generator or central inverter system.
---