Gyroscopic Stabilization of Work Surfaces
Featured Product from PI (Physik Instrumente) L.P.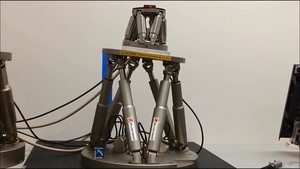 Stabilizing Optics, Work Surfaces, Instruments with Gyroscopes / 6-DOF Hexapods
Unstable work surfaces are stabilized using a gyroscope, controller, and a 6-Axis Hexapod mechanism.
There are many optics and metrology-related applications which require a stable work surface in an unstable environment, whether that environment is vibrating, in an aircraft, on a vessel at sea, or elsewhere. Under normal conditions, the work surface is subject to these environmental disturbances. Hexapod motion platforms provide a good basis to compensate for motion in 6 degrees of freedom. In previous articles, the use for these parallel kinematic mechanisms has been explained in camera quality testing applications and for improving image stabilization algorithms.
In a recent test, we used a gyroscope to provide feedback to a hexapod controller in order to compensate for multi-degree-of-freedom disturbances and to maintain a horizontal top plate during the process. PI's H-811 miniature hexapod with a gyroscope was mounted on PI's H-840 hexapod. The H-840 is controlled by PI's C-887.52 controller's integrated waveform generator. A Matlab program reads the output from the gyroscope on the H-811 platform and sends commands countering the H-840 motions to the H-811 controller.
Follow Us:
Do you need help with your motion control project? Ask an engineer - it saves you time and headaches!
About PI
PI is a leading manufacturer of air bearing stages, piezoelectric solutions, precision motion control equipment, and hexapod parallel-kinematics for semiconductor applications, photonics, bio-nano-technology and medical engineering. PI has been developing and manufacturing standard & custom precision products with piezoceramic and electromagnetic drives for 4 decades. The company has been ISO 9001 certified since 1994 and provides innovative, high-quality solutions for OEM and research. The PI group employs more than 1,000 people worldwide in 15 subsidiaries and R&D / engineering centers on 3 continents.