Improving Laser Seam Welding Performance
Featured Product from PI (Physik Instrumente) L.P.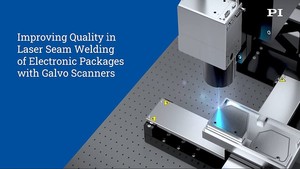 Improving Laser Seam Welding Performance for Electronic Packages
Increase throughput, performance by combing linear stages with Galvos and PI controllers/software
Sensitive electronic assemblies and micro-systems are sealed hermetically to increase lifetime and performance. Laser seam welding is the preferred process to allow very accurate seams with small radii. Laser welding reduces thermally or mechanically induced stress in the housing and provides higher process speed, compared to conventional welds. The use of a laser galvo scanner head provides additional control features, such as controlling and expanding the laser's effective fine spot size to the seam width, by creating a complex welding pattern that is overlaid with the path provided by the motorized stages to create higher quality welds while increasing throughput, and taking advantage of higher power laser sources. Coordinating galvos with motion stages for the best results, is made easy with latest software, motion hardware and motion controllers from PI.
Follow Us:
Do you need help with your motion control project? Ask an engineer - it saves you time and headaches!
About PI
PI is a leading manufacturer of air bearing stages, piezoelectric solutions, precision motion control equipment, and hexapod parallel-kinematics for semiconductor applications, photonics, bio-nano-technology and medical engineering. PI has been developing and manufacturing standard & custom precision products with piezoceramic and electromagnetic drives for 4 decades. The company has been ISO 9001 certified since 1994 and provides innovative, high-quality solutions for OEM and research. The PI group employs more than 1,000 people worldwide in 15 subsidiaries and R&D / engineering centers on 3 continents.