Case Study: Photonic Array Device Assembly
Featured Product from PI (Physik Instrumente) L.P.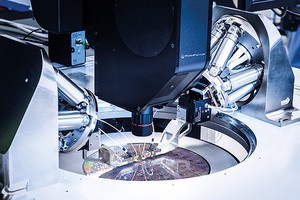 Case Study: Photonic Array Device Assembly
PI's Fast Multichannel Photonic Alignment (FMPA) technology was introduced in 2016. It quickly amassed prestigious honors like the R&D 100 Award and the Lightwave Innovations Award for its revolutionary ability to perform multiple alignment processes in parallel, for example:
For elements whose positional optimization depends on other elements

. Examples include waveguide structures whose inputs, outputs and channels can interact, such as short waveguides whose inputs and outputs "steer" each other. Other examples include lenses or diffractive elements in imaging or resonator assemblies whose mutual positions are interrelated. FMPA can perform these optimizations in one go, yielding a global optimization that is often 100 times faster than previously possible.
For alignments in multiple degrees of freedom

. A ubiquitous example in Silicon Photonics (SiP) is any array device, where alignment motions in Theta

Z

(common notation for rotation about the optical axis) cause dealignment in XY. Previously, any corrective motion in Theta

Z

necessitated a pause and a realignment in XY, meaning array alignments required a lot of time. FMPA's parallel alignment capability allows the full device alignment to be performed in one quick step, since the compensation of the geometric errors due to Theta

Z

motions occurs in parallel with them......more....
Do you need help with your motion control project? Ask an engineer - it saves you time and headaches!
About PI
PI is a leading manufacturer of air bearing stages, piezoelectric solutions, precision motion control equipment, and hexapod parallel-kinematics for semiconductor applications, photonics, bio-nano-technology and medical engineering. PI has been developing and manufacturing standard & custom precision products with piezoceramic and electromagnetic drives for 4 decades. The company has been ISO 9001 certified since 1994 and provides innovative, high-quality solutions for OEM and research. The PI group employs more than 1,000 people worldwide in 15 subsidiaries and R&D / engineering centers on 3 continents.