High-Power Amplifier for Piezo Actuators
Featured Product from PI (Physik Instrumente) L.P.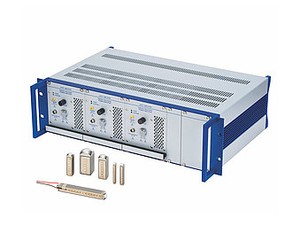 E-619 High-Power Amplifier for Piezo Actuators
Modular System for Continuous Dynamic Applications
High-power amplifier for piezo actuators
High peak current, >5 A continuous current. High bandwidth for high dynamics. Suitable for PICMA® piezo actuators with special electrodes. Output voltage -30 to 130 V. Analog control. Evaluation of temperature sensor protects the piezo actuator against overheating
Optional servo controller upgrade
Optional control module for nanopositioning systems with integrated position sensors (SGS, capacitive). Optional interface module with wave generator, data recorder, digital interfaces (TCP/IP, USB, RS-232, SPI). Optional driver set for use with D/A converter boards from National Instruments and NI LabVIEW software
High degree of efficiency
Class-D switched amplifier with capacitor for energy recovery. Low influence of the application thanks to reduced heat dissipation
Application fields
Mechanical engineering: High dynamics placement, vibration absorber, noncircular grinding, valve control, materials testing, test equipment
High dynamics tip/tilt mirror applications
Watch>>>PI USA Quick Tour
About PI
PI is a leading manufacturer of air bearing stages, piezoelectric solutions, precision motion control equipment, and hexapod parallel-kinematics for semiconductor applications, photonics, bio-nano-technology and medical engineering. PI has been developing and manufacturing standard & custom precision products with piezoceramic and electromagnetic drives for 4 decades. The company has been ISO 9001 certified since 1994 and provides innovative, high-quality solutions for OEM and research. The PI group employs more than 1,000 people worldwide in 15 subsidiaries and R&D / engineering centers on 3 continents..