Variable Travel Ranges and Axis Configuration
Featured Product from PI (Physik Instrumente) L.P.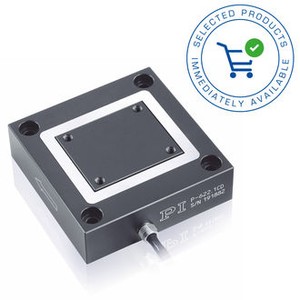 Variable Travel Ranges and Axis Configuration
Reference-class linear positioner
Exceptionally reliable due to the combination of frictionless, maintenance-, and wear-free components. Vacuum-compatible versions to 10-9 hPa
Integrated lever / guiding module for flexible setup of various axis configurations
Frictionless flexure-guided design for precision guiding combined with lever amplification for long travel ranges. Drive by all-ceramic insulated PICMA® actuators with outstanding lifetime
Direct position metrology with capacitive sensors
Contactless measuring method (direct metrology). Frictionless subnanometer resolution. Excellent linearity. High bandwidth up to 10 kHz
Fields of application
Research and industry. Vacuum environment to 10-9 hPa
Travel ranges 50 to 1800 µm
Resolution to 0.1 nm
Positioning accuracy 0.02 %
Direct metrology with capacitive sensors
X, XY, Z, XYZ versions
Standard and Custom
PI has in-house engineered solutions with over 4 decades of experience working with customers to provide products that meet application demands, and can quickly modify existing product designs or provide a fully customized OEM part to fit the exact requirements of the application.
PI is a leading manufacturer of precision motion control equipment, piezo motors, air bearing stages and hexapod parallel-kinematics for semiconductor applications, photonics, bio-nano-technology and medical engineering. PI has been developing and manufacturing standard & custom precision products with piezoceramic and electromagnetic drives for 4 decades. The company has been ISO 9001 certified since 1994 and provides innovative, high-quality solutions for OEM and research. PI is present worldwide with eight subsidiaries, R&D / engineering on 3 continents and total staff of 800+.